Since our founding in August 2013, Cuba Libro has initiated and grown donation programs throughout Havana; in 2016, we expanded these programs to other provinces and are continually meeting with possible collaborators and conducting outreach to identify new recipients. We're very proud of our donation strategy - based on distributing the most needed items to the most vulnerable - and are constantly evolving so that we can identify and reach the underserved both in our immediate community and beyond.
When the COVID-19 pandemic began sweeping the world, we took the decision, collectively, to close voluntarily in order to protect the health of our team and community. Nevertheless, through the continued support from our local and global community, we were able to continue donations of sorely needed medicines, vitamins, and personal hygiene products, as well as maintain minimum salaries for the entire, 6-person, all-Cuban team. As I type this, the pandemic rages. We are committed to supporting our community and team as much as we can, as long as we can, until it is safe to reopen.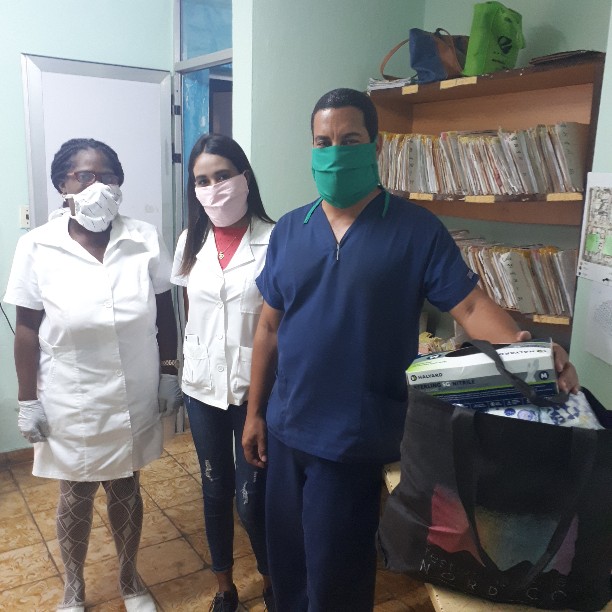 In addition to our material and financial support for different projects and populations, we have gifted nearly 25,000 condoms as part of our commitment to public health since initiating our free condom program in 2014. The economic situation in Cuba remains fragile, with periodic shortages of many basic items, and we are working harder than ever to ensure donations reach the people who need them. 
None of this would be possible without the dedicated work - day in, day out - of our wonderful team and generous donations by people like you. If you are interested in learning about the various ways to support us, whether through financial or material support, or in other ways, please drop us a line. 
At the bottom of this page you'll find a list of books and magazines our community has come to us seeking - feel free to bring down a couple or three on your next trip. 
Are you coming to Cuba? Want to support our community programming? There are many ways to do so - drop us a line and we can give you some options.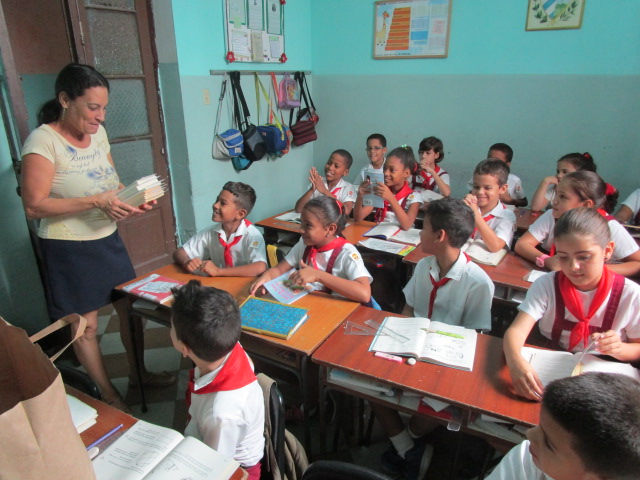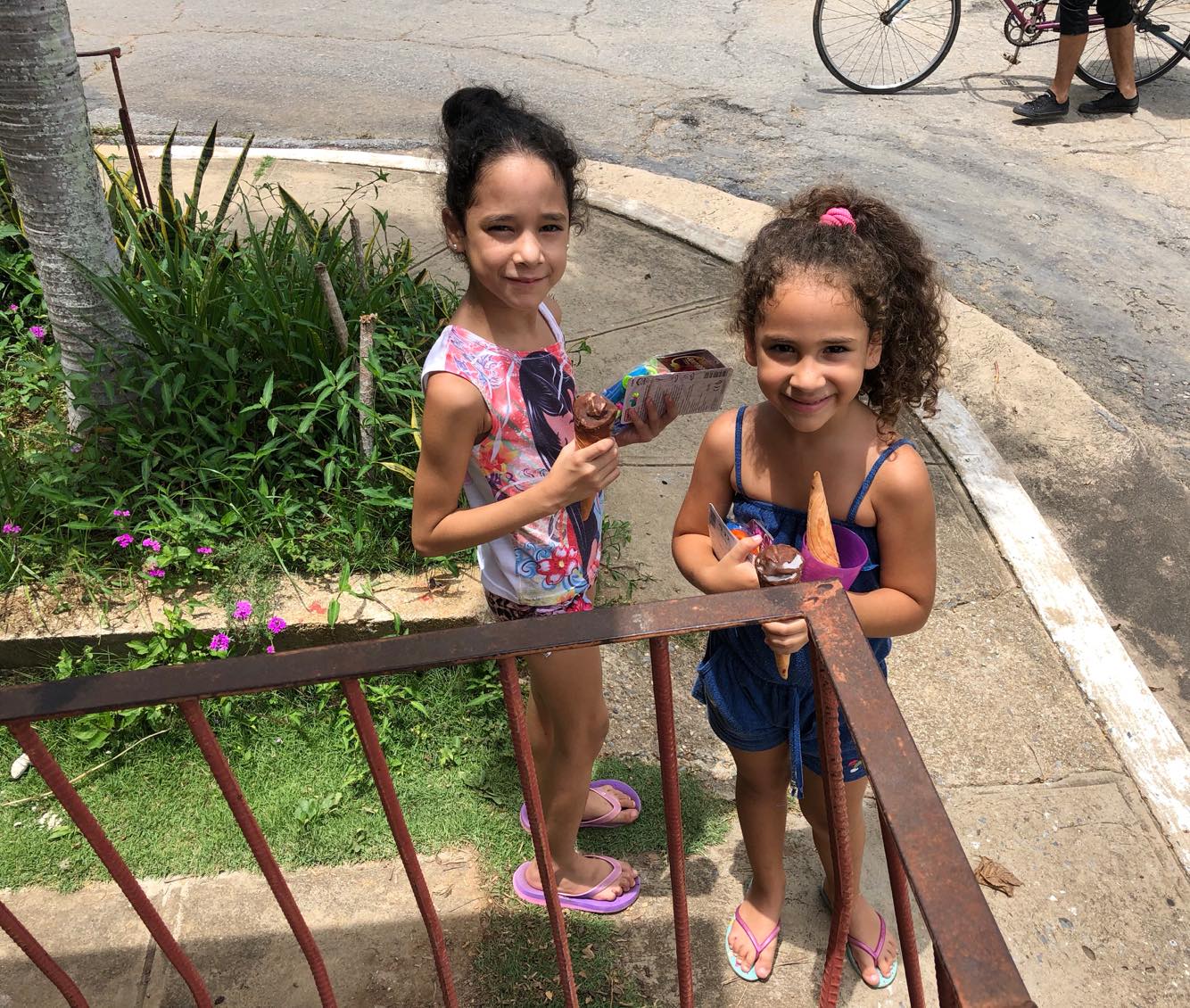 In 2019, Cuba Libro made the following donations to the following people and institutions:
Rural Nursery School (San Diego de los Banos,  Artemisa)
Network of Trans Women/CENESEX
Pre natal vitamins (17 future & new moms)
Tornado Victims Regla (50+ donors, 10 volunteer drivers)
Tornado Victims Guanabacoa (Berroa, El Roble)
Tornado Victims 10 de Octubre
Escuela Solidaridad con Panama (181 physically disabled children)
Prisoners, Ceiba 5 minimum security prison
Academia de Idiomas, Nuevo Vedado
Escuela de Idiomas Extranjeras, Plaza
Neonatal Ward, Artemisa
Proyecto Armonía, Centro Habana
Surgical theater, Hospital Hermanos Ameijeras (Havana)
Consultorios médicos #9 & #10, Playa
Elementary school children, Reparto Electrico (Havana)
Elementary school children, Boyeros (Havana)
Elementary school children, Tortuguilla (Guantanamo)
Museum quality art paper from Metropolitan Museum of Art to four (and counting) local artists
Neuro Opthalmology Department, Pando Ferrer Eye Hospital (Havana)
ServiCITMA (Ministry of Science, Technology and Environment)
Animal protectors, Havana
Central Post Office (Habana 6)
Copa de Viñales Mountain Bike Event, Proyecto Jibaro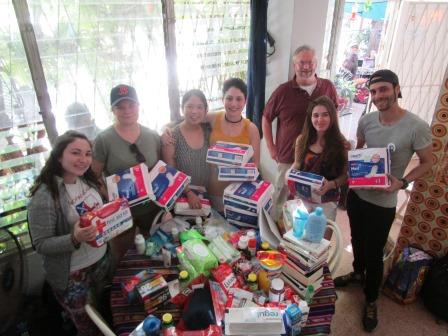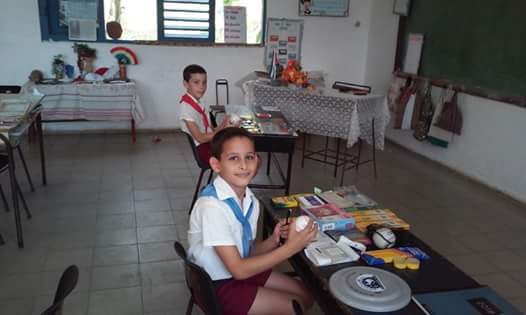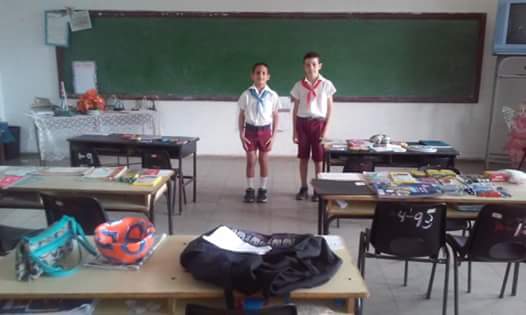 In 2018, Cuba Libro made the following donations to the following people and institutions:
Tomás Romay Chacón Elementary School (Vedado) – materials, books in English, pen pal project with public school in Arizona
Rural Primary School, La Güira (Artemisa)
Rural Primary School and family doctor's office, Paso Real (Pinar del Rio)
Playa Caletones settlement (Holgüin)
CDR #8, Quivicán (Mayabeque)
Prisoners, Combinado del Este
Department of Neurosurgery and ICU, Calixto García Hospital (Vedado)
Guanabacoa Orphanage
Uterine, thyroid and pancreatic cancer patients
High risk pregnant women and new moms
Consultorios #9 & #10, Playa
Animal Health Clinic, Quinta de los Molinos
Centro Memorial Martin Luther King & Ebenezer Baptist Church (Marianao)
El Rincón del Cristo, Finca Agroecológica (Guanabacoa)
Dog Protectors, Necrópolis Cristóbal Colón
Nursery School, Paso Quemado (Pinar del Río)
Hogares de Ancianos, Quivicán (Mayabeque)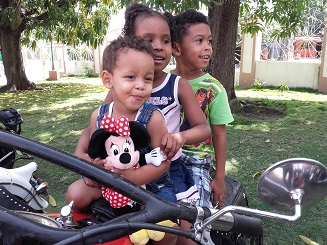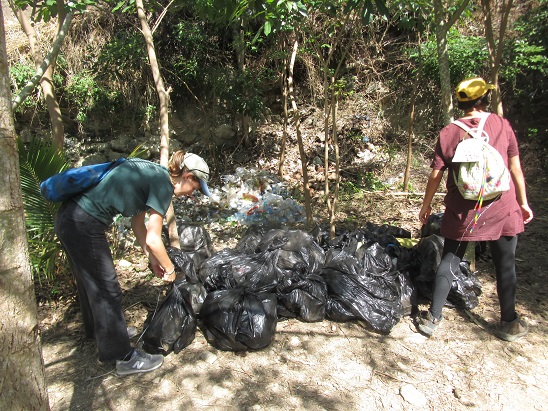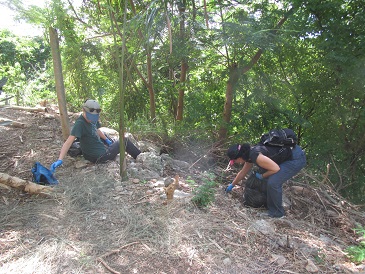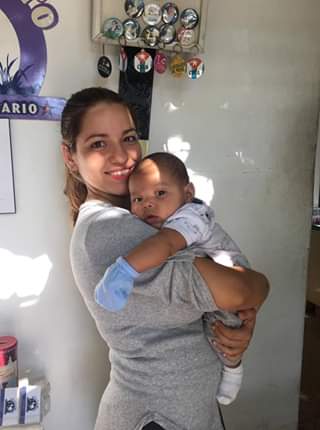 In 2016 and 2017, we made material and financial (through our federally-registered 501c3 organization Friends of Cuba Libro) donations to the following entities:
Alas Skate Corps. (Independent media)
Centro Memorial Martin Luther King, Jr, Marianao
Combinado de INDER, 23 y B, Vedado
Consultorios Médico de Familia #9 & #10, Playa
Cooperativa Jesús Menéndez, Artemisa
Cotorro Animal Rescue
Cuidadores Voluntarios de Animales de la Ciudad (Cat & dog rescue)
Department of Primary School Methodology (Havana Province)
Dora Alonso School for Autistic Children
Duo Jade (Independent media)
Escuela de Inglés, Plaza
Escuela de Secundaria Básica, Rebelión de Vegueros, Boyeros
Escuela Primaria La Ceiba del Agua (Artemisa)
Escuela Primaria Tomás Romay Chacón, Vedado
Family of Raquel Suárez (Home support for people with Parkinson's)
Federación de Mujeres Cubanas, Bloque 6, Plaza
Festival ProElectrónica (Independent media)
Habana Vieja Government Musical Repair Shop
Hospital San José de Las Lajas, Mayabeque
Hurricane Irma victims in Júcaro and Chambas (Ciego de Ávila)
I.A. (Independent media)
Iglesia Ebenezer
La Liga Echeverría Baseball Club
Los Cercanos Dias del Amor (Independent documentary)
Oficina de Correo, Habana 6, Plaza  
Oficina de Trabajo, Playa
Prisoners of Combinado del Este Prison
Sexto Congreso Housing Shelter
Therapeutic Clowns of Cuba
William Soler Pediatric Oncology Ward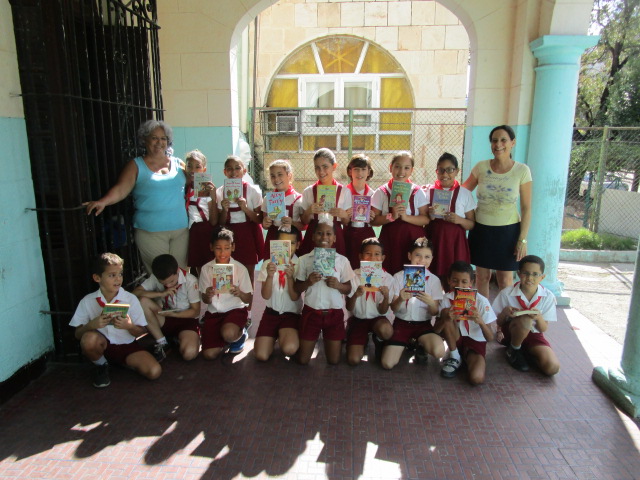 BOOK AND MAGAZINE DONATIONS
Additionally, almost all of our books are donated, meaning you can touch many lives by giving a book or magazine. We prioritize curation of those books our community comes to us seeking. By stocking these titles/genres/authors, we remain relevant and responsive to our community. If you'd like information on how to send us books or magazines through the mail, please drop us an email. Here are the titles we're currently after:
Shogun, James Clavell

Chronicles of Narnia, CS Lewis

A Brief History of Time, Stephen Hawking

Man's Search for Meaning, Viktor Frankl (URGENT request)

Homo Deus, Yuval Noah Harari

Good Night Stories for Rebel Girls, Francesca Cavallo

The Fault in Our Stars, John Green

1984, George Orwell

Games of Thrones Trilogy, George R R Martin

Hunger Games Trilogy, Susan Collins

Harry Potter Series, JK Rowling

Becoming, Michelle Obama

It, Stephen King

Cuba Hot & Cold, Tom Miller

The Creative Spark, Michael Shapiro

Havana Noir, Achy Obejas

Fire & Fury, Michael Gross

Treat us Like Dogs and We Will Become Wolves, Carolyn Chute

Feminasty, Erin Gibson

Cubanissimo, Cristina Garcia (ed)

Kill 'Em and Leave, James McBride

Beartown, Fredrich Bachman

A Man Called Ove, Fredrich Bachman

The Last Day of Our Fathers, Joel Dicker

The Psychoanalysis of Fire, Gaston Bacelard

The Second Sex, Simone de Beauvoir

Pale Fire, Nabokov

The Monk Who Sold his Ferrari, Robin Sharma

The 5AM Club, Robin Sharma

Saved by the Sea, David Helvarg

True Grit, Charles Portis

Train Dreams, Denis Johnson

The White and the Black, Harold Pintner

Cuban Revolution in America, Teishan Latner

Anything by Thomas Pynchon

American Gods, Neil Gaiman

The Art of Not Giving a F*ck, Mark Manson

Everything is F*cked, Mark Manson

To Have and Have Another, Philip Greene

Havana Without Makeup, Herman Portocarero

300 Reasons to Love Havana, Heidi Hollinger

Cuba in Mind, Maria Finn Dominguez

Cuba by Bike, Cassandra Brooklyn

The Gift of Fear: Survival Signals that Protect Us from Violence, Gavin de Becker

Anything by John McPhee

Anything by Henry Miller

Anything by Anais Nin

Anything by David Rowe (these following are all renowned caricaturists and are requested by Cuban artist and Cuba Libro collaborator Brady)

Anything by Steve Brodner

Anything by Kevin Kallaugher

Anything by Anita Kuhn

Anything by Graeme Mackay

Anything by Rob Dunlavey

Anything by Steve Breen

Anything by Tom Fluharty

The Kon-Tiki Expedition, Thor Heyerdahl

A Field Guide to Getting Lost, Rebecca Solnit

Wanderlust: A History of Walking, Rebecca Solnit

Men Explain Things to Me, Rebecca Solnit

The God of Small Things, Arundhati Roy,

Lonely Planet, Cuba

500 Hidden Secrets in Havana

The Education of an Architect, John Hejduk

José Marti: Cuban Apostole: A Dialogue (2013), Cintio Vitier & Daisaku Ikeda

Anything by José Martí

This Wheel's on Fire, Levon Helm

The Complete Beatles Songs, Steve Turner (this is hugely popular)

Anything by JD Salinger

The Daily Show, Jon Stewart et al

Black Hole, Charles Burus

The Complete Persepolis, Marjane Satrapi

Dracula, Mike Mignola

Ronin, Frank Miller

Batman: Year One, Frank Miller

Kingdom Come, Mark Waid & Alex Ross

V for Vendetta, Alan Moore

Watchmen, Alan Moore

Portnoy's Complaint, Philip Roth

Negroes with Guns, Robert Williams

A Contemporary Cuba Reader, Philip Brenner et al, eds

Cuba: A New History, Richard Gott

Anything by Charles Bukowski (especially Women and Factotum)

Drown, Junot Diaz

The Brief Wonderous Life of Oscar Wao, Junot Diaz

This is How You Lose Her, Junot Diaz

The Poet, Ralph Waldo Emerson

Nature, Ralph Waldo Emerson

Where the Boys Are, Van Gosse

Prose Contribution to the Cuban Revolution, Allen Ginsberg

Planet Cuba, Rachel Price

Back Channel to Cuba, Peter Kornbluh

Listen Yankee!: Why Cuba Matters, Tom Hayden

Double Life of Deacon Brody, R.L. Stevenson

Time Out Film Guide (2009 or later)

Rolling Stone, Encyclopedia of Rock & Roll

Anything by Naomi Klein

Sartre on Cuba, Sartre

Talking to Fidel, Peter Kornbluh

World Guide, New Internationalist

Adios Muchachos, Daniel Chavarria

Jimmy Corrigan, Chris Ware

Memorias del Fuego, Eduardo Galeano

Cocktail Time in Cuba, Basil Woon

Buena Vista in the Club, Geoff Baker

What Everyone Should Know about Cuba, Julia Sweig

Cuba/Havana Guidebooks

Cubana: Contemporary Fiction by Cuban Women, Mirta Yáñez (ed)

Open Your Eyes and Soar: Cuban Women Writing Now, Mary G. Berg, ed

Havana is a Really Big City, Sarah Cooper, ed

Disconnect, Nancy Alonso

Ophelias, Aida Bahr

A Corner of the World, Mylene Fernández Pintado

The Beautiful and the Damned, F Scott Fitzgerald

The Man Who Loved Dogs, Leonardo Padura

Havana Red, (or Blue or Black) Leonardo Padura

Vital Signs, Pedro de Jesus

New Short Fiction from Cuba

,  J. Loss & E. Whitfield, eds

Cuba on the Edge,

M. Berg, P. Carmell, &  A. Fountain, eds

Cuba: A Traveler's Literary Companion

, A.L. Bardach, ed

Cuban Revelations: Behind the Scenes in Havana, Marc Frank

Cuban Economic and Social Development: Policy Reforms and Challenges in the 21st Century

, Jorge Dominguez, ed

Best Women's Travel Writing, ed by Lavinia Spalding

Anything by  Paco Ignacio Taibo II (especially his non fiction; in English, please)

Underworld, Don Delillo

Mao II, Don Delillo

Great Jones Street, Don Delillo

White Noise, Don Delillo

Auto/Biographies (of any type; Cubans love them)

Cookbooks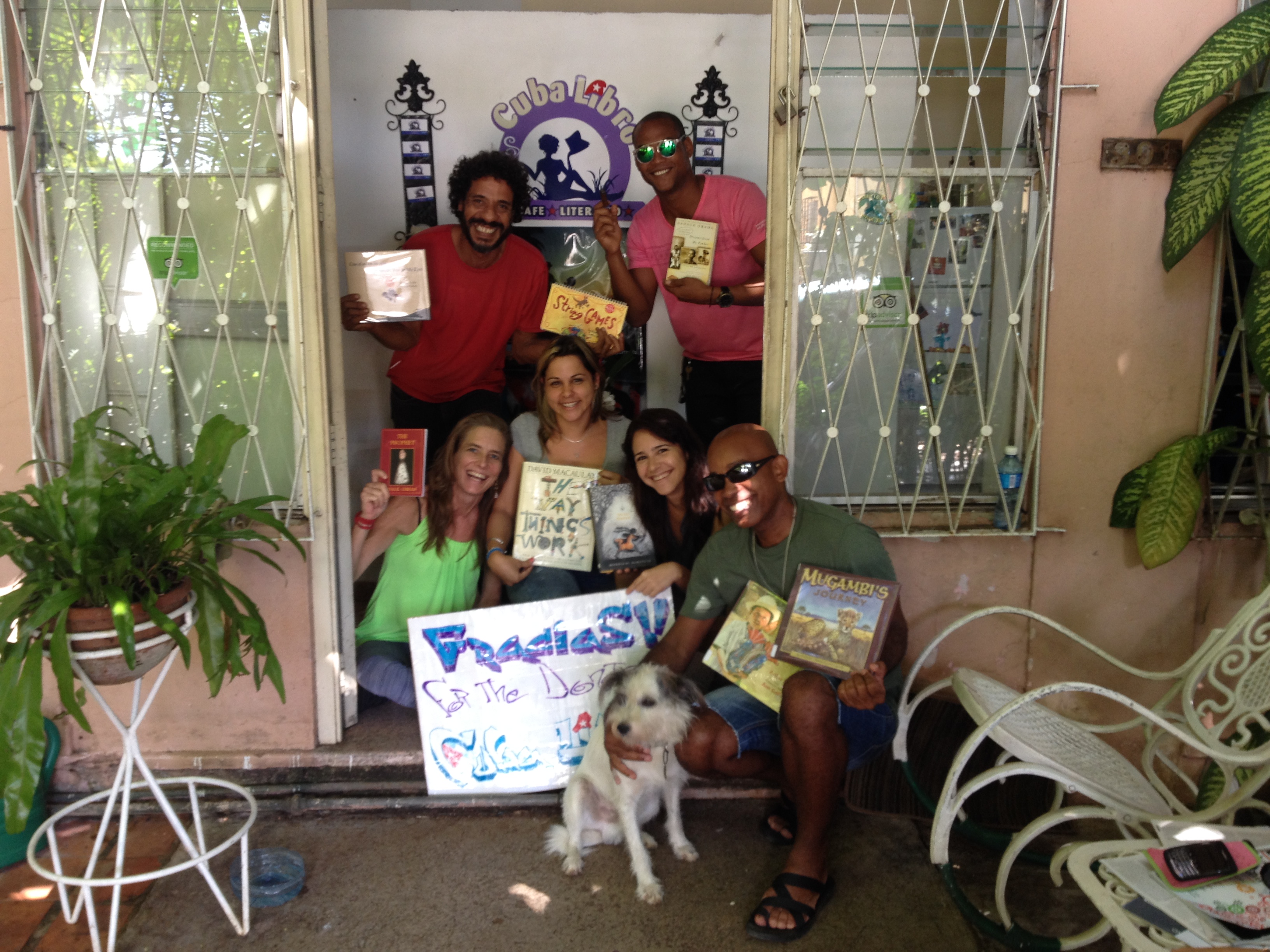 MAGAZINES - we can also receive subscriptions by snail mail; ask us how!
Architectural Digest

Art in America

Avaunt

Clay (for a young, ceramic artist specializing in Raiku)

Cooks Illustrated

Downbeat

Dwell

Funambulist

The Gentlewoman

Good

Guitar World

Happy Reader

Hip Hop mags – don't know what specific titles exist

Home décor magazines (many designers and people buying/selling homes here are asking us for these)

Holiday Magazine

Kinfolk

McSweeneys

Monocle

Outside

Rock climbing mags – don't know what specific titles exist

Sports Illustrated

Tin House

Wired